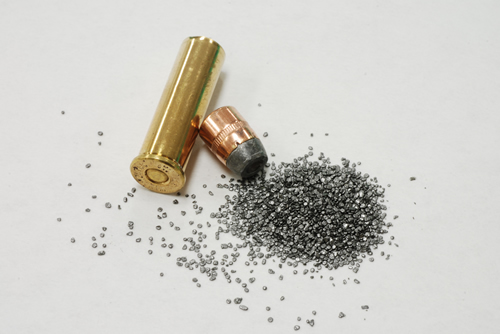 Gunshot residue (GSR) is composed of primer particles that are propelled from the sides and the barrel of a firearm at the moment of discharge. Subsequent to discharge, GSR particles can be detected both on the hand of the shooter and on other nearby surfaces or within a few feet of the sides of the firearm.
A typical GSR collection kit contains adhesive disks to sample an individual's hands. The adhesive disks are analyzed directly using scanning electron microscopy coupled with energy dispersive X-ray analysis (SEM-EDX). The scanning electron microscope allows the particle's size and morphology or shape to be examined, while the X-ray detector provides elemental data on the particle of interest. The most common elements found in gunshot residue are lead, antimony, and barium.
Because any one of the three key elements (lead, barium or antimony) may also be found in ordinary environmental particles, it is important for the scientist to take into account background particles found on the hands in interpreting the results of a gunshot residue analysis.