Partnering with Legal Professionals
Our forensic criminalistics team has decades of experience with any and all types of evidence including crime scene reconstruction, bloodstain pattern analysis, firearms testing and gunshot residue testing.
When two items or substances come together, they behave and interact in ways that tells a story that experienced forensic criminalistics experts can read. Our scientists are here to analyze your evidence, visit the crime scene if needed, write reports, provide comprehensive case review, consultation, and expert testimony.
Extensive Evidence Experience 
Complex cases that involve crime scene reconstruction are typically multi-faceted. The case may involve reconstructing what happened at a crime scene by examining the actual scene where the event occurred and by reviewing various reports such as police reports, laboratory reports, laboratory notes, and photographs. It can also include examining a variety of evidence such as firearms and clothing which can contain other types of evidence such as biological (i.e. – blood & bodily fluids), and trace evidence (i.e. – gunshot residue, hair, fibers, glass).
Firearms Testing Expertise
Our forensic criminalistics scientists have the resources to analyze firearms at our laboratory in order to determine functionality as well as generate test fires for the comparison of bullet and cartridge cases. Whether it is the recreation of a crime that occurred in a bedroom or a drive-by shooting, we can assist in determining what most likely transpired at the scene and provide you with the decision-making information you need.
Forensic Criminalistics Services include:
Crime scene reconstruction
Bloodstain pattern analysis
Bullet path analysis
Firing distance determination
Firearms testing & tool mark examinations
Firearm mechanism examination (function of firearms)
Cartridge case ejection patterns
Firearms serial number restoration
Comparison of bullets, cartridge cases, and tool marks
DUI report consultation
Gunshot residue testing and report consultation
Crime Scene Reconstruction
Bloodstain pattern analysis
Bloodstain pattern analysis is used to assist in determining the direction and speed of blood drop(s) at the scene of a crime. The analysis of blood spatter can corroborate the use of other physical evidence and can indicate important information such as the type and velocity of the weapon used, the number of blows to cause such splatter, the position of the assailant and victim, which wounds were inflicted first, and type of injuries. Whether it is high-velocity blood spatter from a gunshot wound or low-velocity from a person dripping blood on the ground, our scientists can assist in making that determination through careful review of all the reports, notes & photographs, as well as examination of the evidence.
Bullet trajectory analysis
Bullet trajectory techniques can be used to complement bloodstain pattern analysis. By tracing the path or the trajectory of the bullet, one can determine the position of the victim's body at the time of a shooting or can determine the angle of impact. Bullet trajectory analysis can also assist in determining the position of the shooter and the distance from a target. By stringing trajectories, for example, our scientists can trace the path or trajectory of a bullet in an effort to locate the origin of the gunshot.
Firing distance determination
When fired, firearms discharge not only the projectile, but residues associated with the discharge of the cartridge. Depending on the type of firearm and ammunition this projectile and gunshot residues may consist of shot pellets, wadding, shot cups, partially burned and unburned powder particles, smoke, and elements or compounds associated with gunpowder combustion. Our scientists can approximate the distance from the muzzle to the target by careful examination of gunshot features on the target and comparing them to similar features on test fired targets.
Firearms Testing & Tool Mark Examination
Firearm mechanism examination (function of firearms)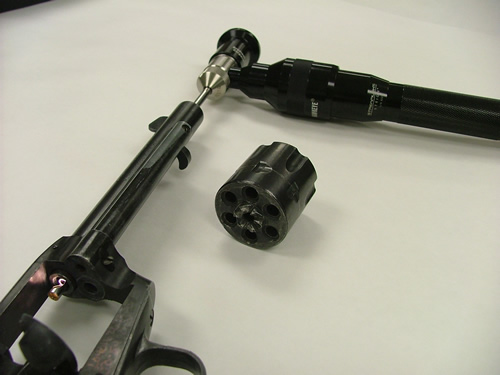 Our firearms examiners can examine and test a firearm for the purposes of establishing the condition and functionality of a firearm and to determine if a weapon functioned properly during a case incident. We can also perform test firing of the firearm and generate exemplar bullets and casings for comparison or for issues regarding some aspects of shooting reconstruction such as distance determinations or ejection patterns.
Firearm serial number restoration
Manufacturers often stamp serial numbers onto products such as firearms, tools, cameras, watches and automobile parts. These numbers can establish ownership or manufacturer identity. Individuals attempt to obliterate serial numbers by scratching, filing, grinding, over-stamping or welding new metal onto an obliterated area. Our scientists can perform a chemical restoration procedure on punched or stamped obliterated serial numbers.
Cartridge case ejection
Semi-automatic and full-automatic firearms eject the fired cartridge casings from the firearm during the normal course of operation. Our scientists can analyze the pattern of ejected cartridge casings to determine the position of the weapon at the time of discharge.
Tool mark examinations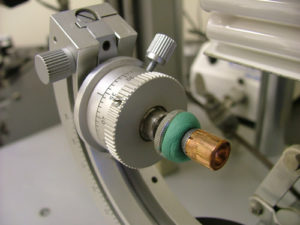 A tool mark is an impression mark that results from contact with sufficient pressure between a tool and a surface. The examination process involves comparing the striated surface of the "tool" to the striated surface within the questioned tool mark. Our scientists can also examine the evidence for additional evidence such as trace hair, fiber, and fingerprint evidence.