In 1993 we began providing forensic analysis in both criminal and civil cases. From the beginning our philosophy has been focused on a collaborative, multi-disciplinary approach to forensic science. We have held on to this approach even as the industry and times have migrated to a more pigeon-holed, limited structure where specialists have a primary focus and are often disengaged from the overall picture of a crime scene incident.
Being a forensic crime lab with a generalized approach is a big part of the reason that we are your lab for complex cases.
Forensic Criminalistics Services include:
Crime scene reconstruction
Bloodstain pattern analysis
Shooting Incident Reconstruction
Firing distance determination
Firearms testing & tool mark examinations
Firearm mechanism examination (function of firearms)
Gunshot residue testing and report consultation
Forensic trace evidence
Toxicological/DUI report consultation
Crime Scene Reconstruction
Our forensic criminalistics team has decades of experience with reviewing the physical aspects of a crime in concert with the sequence of events. By reconstructing a crime scene, we may assist to determine what could and could not have happened in the commission of a crime. Crime scene reconstruction considers any and all evidence recovered, the physical layout of the space and ties in other forensic disciplines such as toxicology, bloodstain pattern analysis, firearms testing, gunshot residue testing and DNA.
When two items or substances come together, they behave and interact in ways that tell a story (Locard's Principle) that experienced forensic criminalistics experts can read. Our scientists are here to analyze your evidence, visit the crime scene if needed, write reports, provide comprehensive case review, consultation, and expert testimony.
Extensive evidence experience 
Complex cases that involve crime scene reconstruction are typically multi-faceted. The case may involve reconstruction of a crime scene by examining the toxicological or impaired state of an individual, the actual scene where the event occurred, and often involves reviewing various reports such as police reports, laboratory reports, laboratory notes, autopsy reports and photographs. It can also include the examination of a variety of evidence such as firearms and clothing which can contain biological evidence (blood or other bodily fluids) and trace evidence (i.e., gunshot residue, hair, fibers, glass).
 Bloodstain pattern analysis
Bloodstain pattern analysis is used to assist in determining the direction and speed of blood deposited at the scene of a crime. The analysis of blood spatter can corroborate the use of other physical evidence and can indicate important information such as the type and general velocity of the weapon used, the number of blows to cause such spatter, the position of the assailant and victim, the order of wound infliction, and types of injuries. Examination of blood stains and drip patterns can help characterize how the stains and patterns may have been created which may, in turn, assist in reconstructing events during a crime.
Shooting incident reconstruction
Shooting Incident Reconstruction techniques can be used to complement bloodstain pattern analysis during crime scene reconstruction. By tracing the trajectory of bullets, one can determine the possible positions of the victim's body at the time of a shooting, the angle of impact on inanimate or intervening objects, and the shooter's position. By stringing trajectories, for example, our scientists can trace the path or trajectory of a bullet in an effort to locate the origin of the gunshot.  Cartridge case ejection patterns and bullet impact sites can also add valuable information about how a shooting incident occurred and where the shooter and firearm were located at the time of firing.
Firing distance determination
When fired, firearms discharge not only the projectile, but other constituents of the cartridge.  Through careful evaluation of the suspected/known weapon and the performance of range-of-fire testing of known weapons, our scientists can assist in providing estimated distances between the muzzle and the target.  Our scientists can also examine intervening materials (particularly clothing) that may have adherent burned and partially burnt gunpowder particles or vaporous lead through the use of microscopic and chemical methods.
Firearms Testing & Tool Mark Examination
Our forensic scientists have the resources to analyze firearms at our laboratory in order to determine functionality as well as to generate test fires for the comparison of bullet and cartridge cases. Whether it is the reconstruction of an indoor crime that occurred within an enclosed bedroom or an outdoor drive-by shooting scene, we can assist in determining what most likely transpired at the scene and provide you with the decision-making information you need.
Firearm mechanism examination (function of firearms)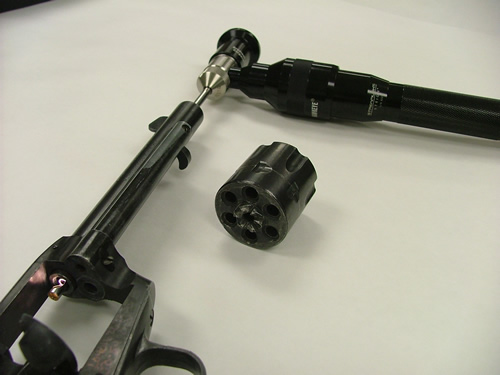 Our firearms examiners can examine and test the condition and functionality of firearms to determine if a weapon functioned properly during a case incident. We can also perform test firing of the firearm and generate exemplar bullets and casings for comparison or for issues regarding some aspects of shooting reconstruction such as distance determinations or ejection patterns.
Firearm serial number restoration
Manufacturers often stamp serial numbers onto products such as firearms, tools, cameras, watches and automobile parts. These numbers can establish ownership or manufacturer identity. Individuals may attempt to obliterate serial numbers by scratching, filing, grinding, over-stamping or welding new metal onto an obliterated area. Our scientists can restore punched or stamped obliterated serial numbers utilizing chemical procedures.

Cartridge case ejection
Semi-automatic and fully automatic firearms eject fired cartridge casings from the firearm during the normal course of operation. Our scientists can analyze the pattern of ejected cartridge casings to determine a range of the shooter's location or weapon at the time of discharge.  This can add valuable information when performing shooting incident reconstructions.
Tool mark examinations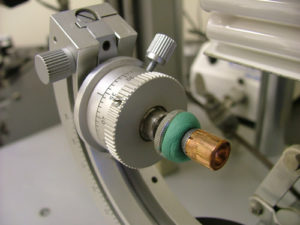 A tool mark is an impression mark that results from contact with sufficient pressure between a tool and a surface. The examination process involves comparing the impressed or striated surfaces of the "tool" to the striated surface within the questioned tool mark. During this examination, our scientists can also examine for additional evidence such as hair, fiber, and fingerprint evidence.
Comparison of bullets, cartridge cases, and tool marks
During the normal functioning of a gun, numerous marks are left on the projectile and the cartridge case. Through the careful examination of the weapon, projectiles and cartridge cases, and exemplar projectiles and cartridge cases, our scientists can determine if the case projectiles and cartridge cases were shot from a suspected weapon.
Make and model determination
Make and model determinations are performed when fired bullets and/or cartridge cases are recovered from a scene, but no firearms are found.  The bullets and cartridge cases can be examined and the class characteristics of the markings can be categorized to generate a list of firearms that could have potentially fired the evidence.  This information can provide potential investigative leads.
GSR analysis
Gunshot Residue analysis, or GSR, is the detection of minute particles expelled by a firearm when it is fired. When the primer in a shell casing is ignited, a cloud of tiny particles, imperceptible to the naked eye, is expelled from the firearm. These minute particles are expelled primarily from the barrel of the gun but form a cloud emanating in all directions. An adhesive substance, typically a GSR Stub, is used to collect a sample from the hands or clothing of the suspected shooter. A scanning electron microscope (SEM) is subsequently used to analyze the surface of the stub for three common elements of gunshot residue – lead, barium and antimony.
At FACL, our firearms experts will work with you on any or all aspects of the process – collecting samples for GSR analysis, procuring GSR analysis of the evidence samples, and expert review of the GSR results. Each of our firearms experts have over 20 years of expertise in GSR sampling and interpretation and we can help you decide if GSR is right for your case and what the results mean if testing is done or has already been done.
Forensic trace evidence

Trace Evidence Analysis in forensics is the in-depth analysis of minute "traces" left behind at a crime scene or accident location. Most typically these traces are left when items touch or are rubbed together. However these trace materials were deposited, it is key to identify them, collect them, and then analyze them scientifically to determine their nature and their origin. Trace evidence analysis is a broad term. At FACL we have in-house expertise in bloodstain pattern analysis and GSR. We can also help you determine if other forms of trace analysis might benefit your case and coordinate with other labs to assist with other specific analyses. For instance, if our analysis of your case and evidence finds that there is trace evidence beyond the expertise and instrumentation in our laboratory, we can collaborate with an outside laboratory to perform and appropriately interpret the recovered material.
Toxicological/DUI report consultation
We can provide comprehensive toxicological consultation in cases involving either DUI (blood or breath samples) or DUI-Drugs (marijuana, illicit drugs, prescription medications, etc.). Toxicological consultation may also be applicable to other criminal cases where an individual may have been under the influence of alcohol and/or drugs, or suspicious death investigations requiring toxicological expertise and interpretation.